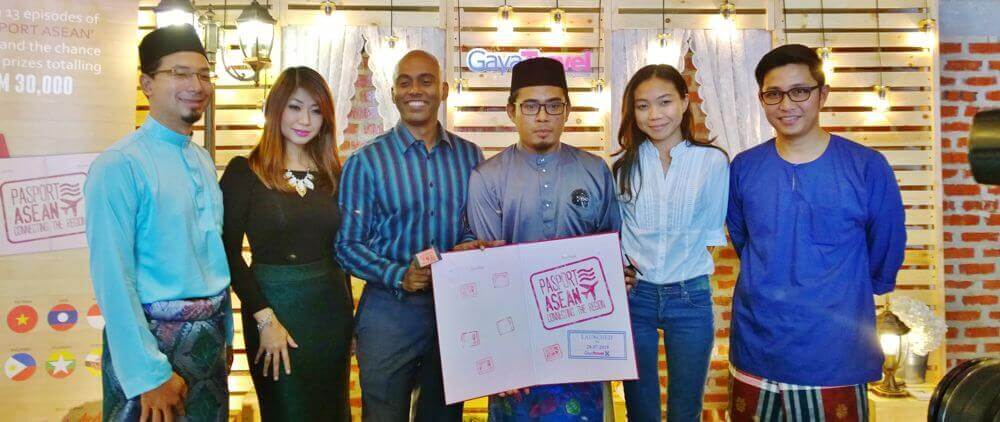 By Diyana Zamri
SHAH ALAM, July 29 (Malaysiaaktif) – Forget about cramming yourself in tourist-packed cities and maximise the use of time and money efficiently by watching 13 weekly episodes of "Pasport ASEAN" which started airing on Sunday, July 26 at  9:30 p.m.
"Pasport ASEAN" is a new TV programme produced by Gaya Travel Nusantara, Radio Televisyen Malaysia (RTM), and Air Asia as the official airline partner.
Setting itself apart from other travel programmes, "Pasport ASEAN" takes viewers to explore unheard of destinations across ASEAN countries, covering tourist attractions, cultures of ASEAN communities and accommodations.
In line with Malaysia holding the role of ASEAN 2015, "Pasport ASEAN" aims to boost intra-ASEAN tourism and the idea of a single ASEAN market.
According to Gaya Travel Magazine's Programmes, Operations and Relations Director, Shamsul Bahrin Zainuzzaman, "Pasport ASEAN" will intrigue travellers, as it will take viewers to unconventional places, doing unconventional activities, such as exploring Chocolate Hills in Bohol, Philippines.
Each episode will see different celebrities acting as guest host, together with the official hosts, Terrence Dass and Sofea Fea.
Meanwhile, Gaya Travel Magazine's Editor, Juhan Kamaruddin said, "collaboration with RTM and the crew of "Pasport ASEAN" offers us the valuable experience of syndicating, developing and broadcasting video content for screen, which helps to complement Gaya Travel's existing platforms; both print and online."
Coming into its 10th year anniversary since  inception, Juhan said the travel and tourism media organisation sees this as a natural progression to explore more opportunities to reach and connect with a wider audience.
To add to the excitement, besides exploring hidden beauties, "Pasport ASEAN" is also offering the chance for viewers to win prizes worth RM30,000, which includes travelling packages, 365 days supply of coffee and many more by simply answer simple questions at the end of every episode. The contest is divided into two categories; weekly and accumulated questions.
Week One winner, Mawardi Yunus, 26, won prizes worth RM1800 of three (3) days and two (2) nights stay at Philea Resort and Spa, Melaka sponsored by Gaya Travel Magazine at the launch of "Pasport ASEAN" in Shah Alam yesterday.