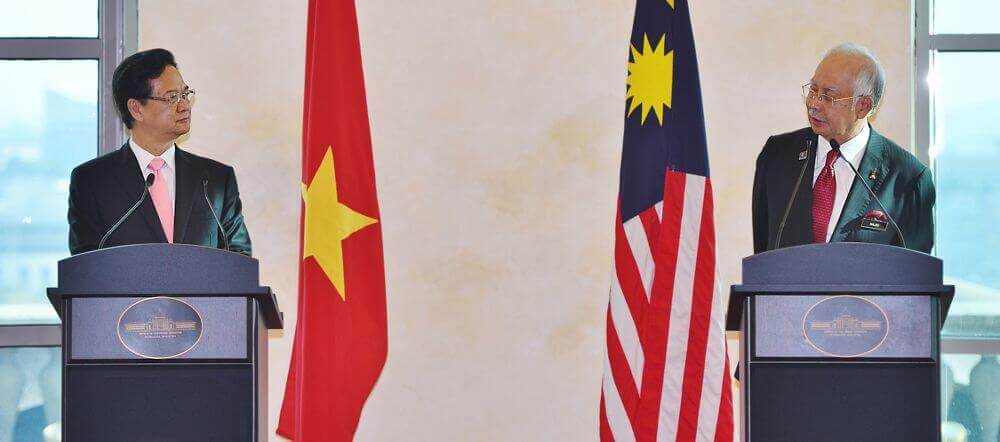 By Diyana Zamri
 PUTRAJAYA, 8 August (MalaysiaAktif) – A new era of bilateral cooperation between Malaysia and Vietnam through the elevation of a more strategic partnership aims to achieve a total trade of at least USD15bil by 2020.
Prime Minister Datuk Seri Najib Abdul Razak said this in a joint with his Vietnam counterpart, Nguyen Tan Dung at Perdana Putra, yesterday.
Najib also said bilateral trade between both countries is expected to reach around USD 10bil this year.
"Malaysia is currently the eighth largest investor in Vietnam (out of 101 countries and territories) and our businessmen and corporations are very keen to work with new opportunities to increase their investment in Vietnam."
"Almost 50% of that investment comes from Petronas investment in Vietnam and today Petronas and PetroVietnam signed an agreement to extend their exploration activities in Vietnam," he said.
"Petronas has also requested the Vietnamese government to consider possible extension to the existing blocks."
Both Najib and Nguyen agreed to look into the possibility of a tripartite joint venture development with respect to overlapping areas between Malaysia, Vietnam and Thailand to explore and develop oil and gas resources.
Najib said, "Our cooperation should also extend to rubber as commodity, so we can work closely between the major producers in the region, such as Vietnam, Thailand, Malaysia and Indonesia to ensure we [will] be able to get a fair return on rubber as a commodity."
Najib and Nguyen also signed the Memorandum of Understanding (MoU) between Malaysia and Vietnam on the employment of workers.
"The MoU on labour will ensure that Vietnamese workers will be protected. We took note of the fact that there are around 60,000 Vietnamese workers in Malaysia," said Najib.
Both countries have also agreed to strengthen the cooperation in defense and security matters, particularly to combat human trafficking, national crime and illegal intrusion into the countries' waters.
According to Najib, the cooperation will include enhanced patrolling between the two military of countries, sides as well as the establishment of hotlines.
The collaboration is not only bilateral, but also in the context of ASEAN in maintaining the unity, central role and common voice to ensuring full compliance of the Declaration of Conduct and speedy resolution of Code of Conduct. This is to ensure the South China Sea will be an area of peace and stability.
Najib also thanked the Vietnamese government's intervention and assistance in apprehending the pirates who were involved in hijacking MT Orkim Harmony.
Earlier, the two leaders had a closed meeting at Najib's office, Perdana Putra.
The Vietnamese Prime Minister was on an official two-day visit to Malaysia at Najib's invitation.
This marks Nguyen's third visit to the country after being appointed as the Prime Minister of the Socialist Republic of Vietnam in 2006.