JAKARTA, 2 Mar ( Malaysiaaktif)  – According to Reuters there is no information on any deaths from a major earthquake that struck off Indonesia's island of Sumatra on Wednesday, an official with the country's search and rescue agency said.
"Up until now, there is no information about deaths," said Heronimus Guru, the agency's deputy head of operations.
Guru earlier told Reuters the earthquake had killed some people, but that he did not know how many.
Meanwhile, NBC News said the U.S. Geological Service reported that the temblor was centered "in the ocean" at a depth of 6.2 miles and put its epicenter at 500 miles southwest of Padang, the capital of West Sumatra province.
A spokesman for Basarnas, Indonesia's national search and rescue organization, said there had been panic in some areas after the quake but no reported deaths.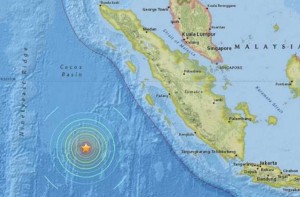 Shallow earthquakes tend to cause more damage. No damage has yet been reported from Wednesday quake, said Andi Eka Sakya, the head of Indonesia's Agency for Meteorology, Climatology, and Geophysics.
Indonesia issued a tsunami warning following the event, according to Reuters. However, a geophysicist with the USGS said it had not gotten a warning from the Tsunami Warning Center.
In Malaysia, The Star reported  that the Malaysian Meteorological Department has confirmed there is no threat of a tsunami hitting the ciuntry's shores.
A spokesman for the Department said Malaysia was not under immediate threat as it was mostly shielded by the island of Sumatra.
"There is a likelihood of light tremors between the shores of Selangor and Johor," he said.