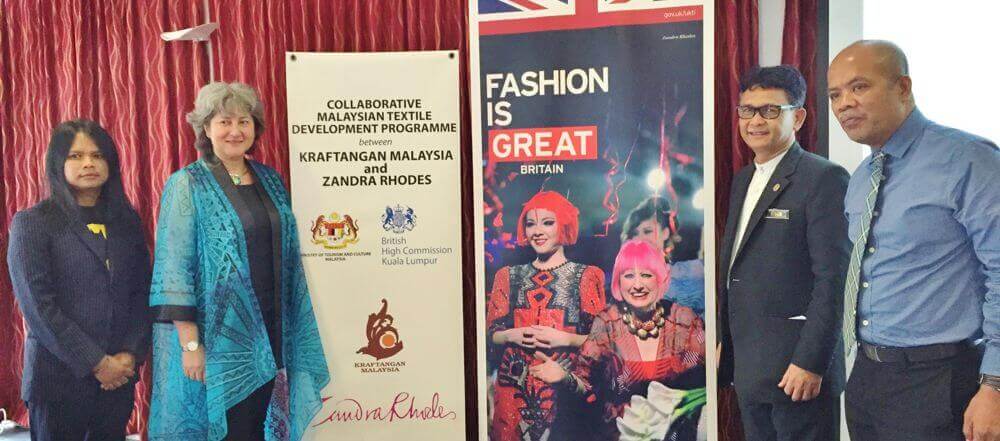 By Diyana Zamri & Aimi Huwaina
 KUALA LUMPUR, 3 August (MalaysiaAktif) – British fashion icon, Dame Zandra Rhodes DBE is collaborating with Kraftangan Malaysia and the British High Commission to promote Malaysian textiles internationally.
This will be the first time ever that Malaysian textiles are featured at London Fashion Week on its official schedule, alongside more established labels like Paul Smith, Vivien Westwood and Versus.
Rhodes' SS16 collection will open for London Fashion Week 2015, which will be held from 18 to 22 September 2015.
Rhodes will be designing a collection under her label, Zandra Rhodes, using Malaysian textiles, supplied by Kraftangan Malaysia and produced by local textile producers. The collection will feature vibrant and exclusive batik and songket textile, which will be transformed into Zandra Rhodes imaginative daywear and eveningwear.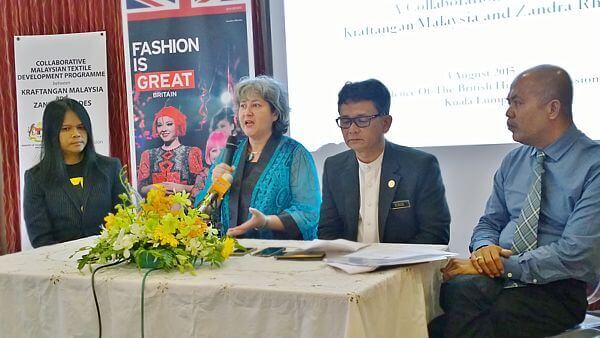 "When you look at the label, London is the key of destination. London Fashion Week is at the same level as Paris and New York. The global exposure and the story that will run … will raise a new level of interest in Malaysian textile and design," said British High Commissioner to Malaysia, Vicki Treadell during a press conference yesterday.
The Zandra Rhodes and Kraftangan Malaysia collaboration is an initiative by Dodi Mohammad of Tradisi Busana PR Sdn. Bhd.
Dodi is also the architect and organiser of the annual Kuala Lumpur Fashion Weekend (KLFW) event organised by KL Alta Moda Sdn. Bhd. The Zandra Rhodes collection will be showcased at the KLFW from 8 to 15 November 2015 at the Malaysian National Visual Art Gallery.
In conjunction with the event, a Mentorship Program will be conducted by Dame Zandra Rhodes for selected local Malaysian textile producers. This one-of-a-kind programme enables locals to learn and study the standards and prerequisite of textile production of an international fashion industry.
Meanwhile, Kraftangan Malaysia's Senior Director of Design and Research Division, Datuk Haji Mohd Zubair Mohd Zain said, "For our entrepreneurs, especially textile producers, this is an opportunity to be among top designers and see how the design process, production, and discipline can help them."
 The first phase of the project involves 10 local designers chosen to produce and send some samplings to Dame Zandra Rhodes. Rhodes will choose the right design or skill to be featured at the London Fashion Week 2015.
To ensure the quality and designs matches her standards, some of our local designers and producers will be sent to London and Zandra will also send some of her people to Malaysia as mentors.
Dame Zandra Rhodes is a well-known name in the fashion industry, rising to occasion in 1970s when she headed the new wave of British designers putting London at the forefront of the international fashion.
Rhode's unique and vintage collection are sought after by royalties and celebrities, including the late Princess Diana, Princess Anne, Kate Moss, Sarah Jessica Parker, Diana Ross, Helen Mirren, and the demised/late flamboyant front man of Queen, Freddie Mercury.
For more information on the Kraftangan MalaysiaProgram and London Fashion Week 2015, Dodi of Tradisi Busana PR Sdn Bhd can be reached at 012-387 6709 or [email protected]. The London Fashion Week Show schedule is available for viewing at www.londonfashionweek.co.uk.