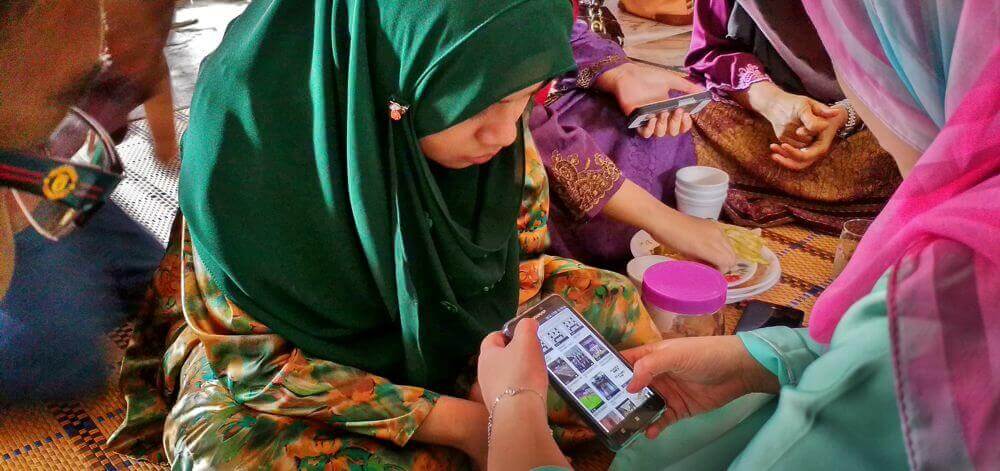 By Faris Fuad
Curiosity is normal as we tend to seek information to fulfil our hunger for knowledge. As time goes by, information is gained through various means, including word of mouth, conventional and new media.
All the knowledge and information disseminated encourage people to be aware of their surroundings, to be more critical and enable them to make wiser decisions.
New media is a new source of information channel that provides people with a wide range of news, both local and international. One only needs to look at the Internet to see the vast repository of information contained in cyberspace.
The Internet frontier has become the purveyor of free information, courtesy of popular social media platforms, including Facebook, Twitter, Instagram and blogs. Together, these virtual applications have taken new media to a whole new level.
Today, with Internet, we are used to getting access to information from anywhere and at anytime. Hence, it is no wonder that new media plays a key role in global information.
There is a caveat, however, amid this free-for-all, as the bulk of information found on the Internet is available in its 'raw' form, mostly devoid of links or attribution to reliable sources.
Therein, lies the trap, when more often plucking of information from the dimension only perpetuates falsehood and lies that will readily be swallowed whole without much thinking and disguised as the truth.
According to Production Director of Malaysian Observer TV (MobTV), an internet TV portal, Salleh Kassim, new media offer myriad sources of information for people to choose from.
"Given that, nowadays with people being more IT savvy, especially the youths, they tend to use new media as an alternative to gain information"
"Part of the problem is structural, as most print and broadcast media are closely tied to the Barisan Nasional (BN) ruling government, with ownership concentrated in party-linked holding companies, in the likes of UMNO-linked conglomerate Media Prima and Bernama."
"Media Prima, for instance, owns nearly all mainstream Malay and English-language newspapers, as well as a number of television channels, magazines, TV1 and TV2, along with a host of radio stations," Salleh said.
According to Salleh, the notion is that these media would literally be in a position to tell people what to think.
He felt that people are getting fed up with mainstream media, as the advent of social networks, such as Twitter and Facebook allows them to reach out further to an audience almost instantly and at times with exclusivity.
"Specifically, right now social media has become the main source of information for those aged 18-35, while the mainstream media is no longer recognised by the younger generation.
"Social media is good in one way but the public must be intelligent, they must have knowledge…it is good in a sense that we can have options in terms of information, leaving  mainstream media as the choice source of information for people who are rooting for the government"
"Those days, about 10 or 20 years ago, almost whatever was reported by the mainstream would be believed, but today, the cyber option with its attendant multiplicity of information platform is the way to go," he said.
Salleh believed that given this sea change in mindset brought forth by the Internet, leaders must make full use of the new media to communicate and reach out effectively to the people.
"They must embrace the new media by disseminating information through Facebook, Twitter, Instagram, etc," he said.
He reasoned that this would, invariably, mean every organisation needs to own and operate its own 'TV' portal to provide the latest news scoop and reports on current events.
The veteran TV executive is confident that whichever side manages to make full use of new media, will win the next general election.
"BN and PKR need to dictate the new media, such as blogs, Facebook etc…it is as simple as that," he added.
"New media will play a major role in determining the outcome of the next general election"
On the challengers he faced operating a TV Portal, his answer is, "neutrality.'
In this context, Salleh says, "BN leaders are unwilling to speak out."
"A classic example is when journalists are assigned to cover Parliament, where most of the press conferences are given by the opposition."
"Sometimes out of 10 press conferences held, only one is by the government, while on some days there are none," he said.
"So how can we report without being biased? These are the problems we face."
In today's dynamic classroom, teaching and learning are becoming more nuanced, more seamless and this is where social media steps in to play their roles. Students and teachers can collaborate with each other easily through the medium.
Social networks are commonly the medium of communication among middle age people and youths, especially students. Having that in mind, their potential should be fully utilised.
Nowadays, most students have Facebook, Twitter, Linkedin and other popular social networks for their personal use, so why not use them as educational tools? If Internet has taught us anything, it is endless information without the boundaries.
The social media certainly contains a lot of valuable, high quality information, alongside massive volumes of unreliable and biased sources of information, disinformation, notwithstanding. That is the veritable nature of the Internet, anyone can post and share information.
The vastness of the Internet as a repository of information poses a serious dilemma to students. They are hard-pressed to sieve through the good, the bad and the credible.
A lecturer from Methodist College Kuala Lumpur, Azahar Ahmad Nizar, said, "I am a teacher, I am on Facebook, and most of my students are on Facebook. Social media plays a very important role in today's education."
"Usually what I do when I teach in a new class, I will get one of my students to start a Facebook group, to which I will channel information…so, sometimes if I need to give assignments I will post them on Facebook"
He insisted that students must be smart in getting information from the Internet
"I think that has always been the case for online sources because there are all sort of materials circulating online, some reliable, some are not."
"I would tell my students, when you go online merely for friendly interaction or for research, you must always ask yourself who wrote the article, especially so if you are doing research for your assignments," he stressed.
"If you go to a university website and the article is written by professor with PhD, chances are the material will be reliable, whereas if you are reading another student's research which was posted on the net, maybe you can use it a little, as it may not be that reliable."
He said teachers must fully utilise social media, especially Facebook to further enhance their teaching method.
"Most students nowadays use it basically as a platform for socialising, at the first instance. However, we must remember that students go on social media primarily because they want to make friends – that's the first purpose"
Azahar said, from using social media as merely a social platform, they could graduate to using it for more productive purposes, such as accessing useful information and knowledge for education.
"So in that sense we are just catching on trends… this is something we cannot avoid these days, everybody is on social media, everybody has a Facebook, Twitter account and so on"
"Another thing about social media is that we are assuming everybody is in on it…I would say that 90-95% of my students are latched on to at least one platform. Given its popularity, when we encounter a student who is not connected, it feels a bit unfair, and despite whatever reasons they do not have a Facebook account, for instance."
"They also need access to information, but just how do you get around this 'lacuna' in connection?  I have to tell them to open a Facebook account because it's important for their education… if they can't for whatever reason, they can ask a friend who has a Facebook account to help them."
A study has shown that over 92% of TV stations are using Facebook and Twitter to attract viewers – reason being social media is genuinely interesting to positively facilitate postings and attract feedback. This is truer in the entertainment sector, where relevant content has the propensity to create various opportunities to attract more viewers.
Good and solid contents are vital for any organisations, and on social media, it is even more so.
Brands that can build a following by being genuinely interesting and their postings engaging, entertaining and informative create far more opportunities to sell to consumers, or attract viewers.
The roles of a special portfolio in the likes of a Social Media Executive are incredibly important, it is clear that social media is here to stay. The Executive will represent the voice of the company, engaging contacts with people and also be responsible for uplifting brand image.
A good portion of the role of a Social Media Executive is in creating and adapting content for specific network.
"We need to be creative in under 140 characters for Twitter, creating images and graphics to accompany Facebook and Twitter posts, taking and curating photos and videos for visual platforms like Instagram" said  Social Media Executive 8TV, Media Prima, Mohamad Ammar.
"We are also responsible in implementing events online. Social media campaigns are things like free movie tickets and merchandise are some of the ways to engage a two way communication with the followers.  "
"I need to develop these ideas and bring them to fruition," he said.
Being on social media is like being in a crowded event and social media executive needs to be fully aware of it
"I must be able to find new opportunities for the company by keeping a tab on the industry. I need to know where and what people are saying about it"
"I also need to know what's changing on social networks and in the industry and be able to react and respond quickly"
Nowadays, people will post good and bad comments about a company online.
"It is vital to monitor Instagram for any positive or negative feedback and then follow up with an appropriate feedback," said Mohamad Ammar.
"We encourage positive feedback and try to pacify any negative comments."
According to him, the content posted need to be in line with company's objective and that the quality on social media needs to be filtered."
"The Social Media Framework is designed to enhance the company's reputation as the number one TV station in Malaysia"
"We will reinforce our position by engaging with a wide audience in a clear and transparent manner."